Comparing Catalog Hours: HBO Max vs Max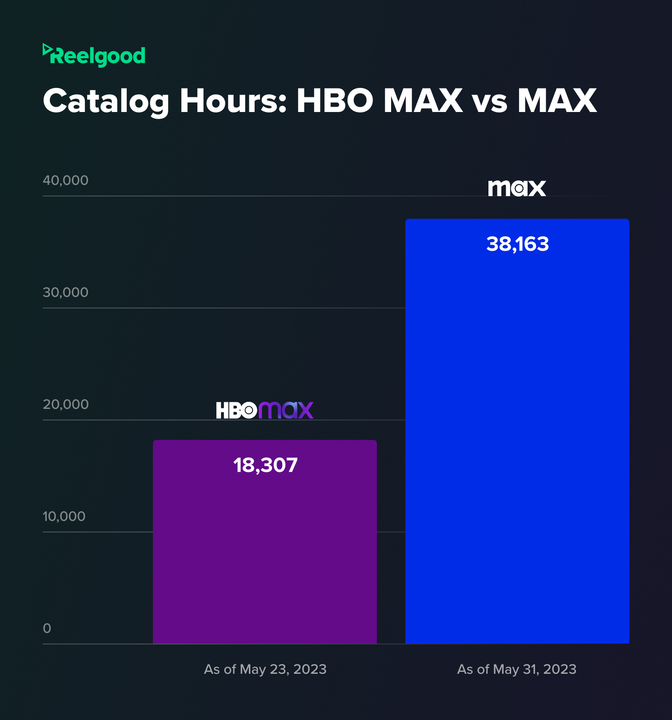 It finally happened — HBO Max became MAX, successfully merging the catalogs of HBO and Discovery+. 
In an effort to boost subscriptions and app usage and decrease churn, Warner Bros. Discovery completely rebranded the three-year-old service. If you've logged in, you've already seen the difference. While the app still feels a lot like HBO Max, having prestige HBO Originals alongside Discovery+ programming like Otter Dynasty feels a little jarring.

Luckily, to avoid any confusion, the platform smartly created a Brand Spotlight row where users can go directly to the networks they're familiar with and easily find the programming they're used to finding on said networks like TLC, HGTV, and more. 
Users who signed up for the service specifically for HBO prestige programming will be pleased that the platform still showcases its offering. However, they won't find original HBO Max titles, including Westworld, Raised by Wolves, The Time Traveler's Wife, Made for Love, and The Nevers, as they've been previously removed from the platform. 
However, MAX will renew HBO Originals like Hacks, And Just Like That, The Sex Lives of College Girls, and Peacemaker, among other notables. Fan favorites, including The White Lotus, Game of Thrones, and Succession, also remain on the platform. 
We recently dove into our data to find out what the new MAX can offer viewers in comparison to HBO Max. The new MAX catalog offers double the catalog hours that HBOMax had.
If we look at the MAX catalog, we see that the platform offers a collection of 2.2K movies, with 96% previously available on HBO Max. The remaining 4% comprises content shared between Discovery+ and new additions exclusive to MAX. 
When it comes to TV shows, MAX features 1.2K TV shows, of which 55% were previously available on Discovery+ and 42% on HBO Max, and the remaining shows are new additions exclusive to MAX.
If it's movies that you're interested in, MAX is a great value, offering a movie catalog twice the size of the TV show catalog.
While MAX has slightly fewer movies than HBO Max, it has more than doubled its number of TV episodes, increasing by over 130%. The TV show catalog also nearly doubled in size, with 88% more shows than HBO Max.
While it's way too soon to tell if Warner Brothers Discovery's change will lead to increased subscriptions and decreased churn, it will be interesting to track. After all, HBO, while a smaller platform, was known for its prestige programming, and now, in a platform that also offers scores of ambient tv options, time will tell whether or not viewers stay along for the ride.