Apple TV+ Reaches New Heights with High-Quality Original Content
It turns out, Apple TV+ is proving to be a great producer of high-quality original content. While the tech company maintains its status as a product giant, its streaming platform has been much more of a slow burn — which isn't always a bad thing. While streaming's largest platforms like Netflix and Prime Video constantly develop and produce new original content for a wide variety of audiences across all genres, Apple TV+ has chosen to focus on high-quality, prestige content helmed by major Hollywood stars and directors. Putting their focus on quality and not quantity, it's a gamble that is paying off for the comparatively small platform. 
It may be hard to believe, but Apple TV+ hasn't even been around for five years. Launching on November 1, 2019, audiences were treated to prestige-level content from the get-go. Releasing the Reese Witherspoon and Jennifer Aniston helmed The Morning Show as a tent-pole series, they rounded out that first year with the sci-fi series See, an M. Night Shyamalan psychological thriller Servant. 
In the years to come, top Hollywood talent would turn to the platform to create compelling series like the Ben Stiller-directed Severance, Jason Sudeikis's award-winning feelgood comedy Ted Lasso, and true crime drama, Black Bird, just to name a few. 
To add an additional feather to the platform's hat, they also snagged an Academy Award for Best Picture for CODA, a beautiful film about a young woman, the only hearing person in her deaf family, who finds herself torn between pursuing her passion at Berklee College of Music and her fear of abandoning her parents. 
However, despite its high-quality content, Apple TV+ still maintains the smallest catalog compared to other major streaming services, with a primary focus on original content.
Apple TV+ viewership hits all-time high in 2023
In 2023, Apple TV+ continues to grow. In fact, this year the streaming service expanded its catalog by 20%, reaching nearly 200 titles. However, Apple TV+ still maintains the smallest catalog compared to other major streaming services.
Programming has been top-notch this year. During the first half of 2023, Apple TV+ dominated Reelgood's Top 10, consistently securing a spot on the ranking for 25 out of 27 weeks.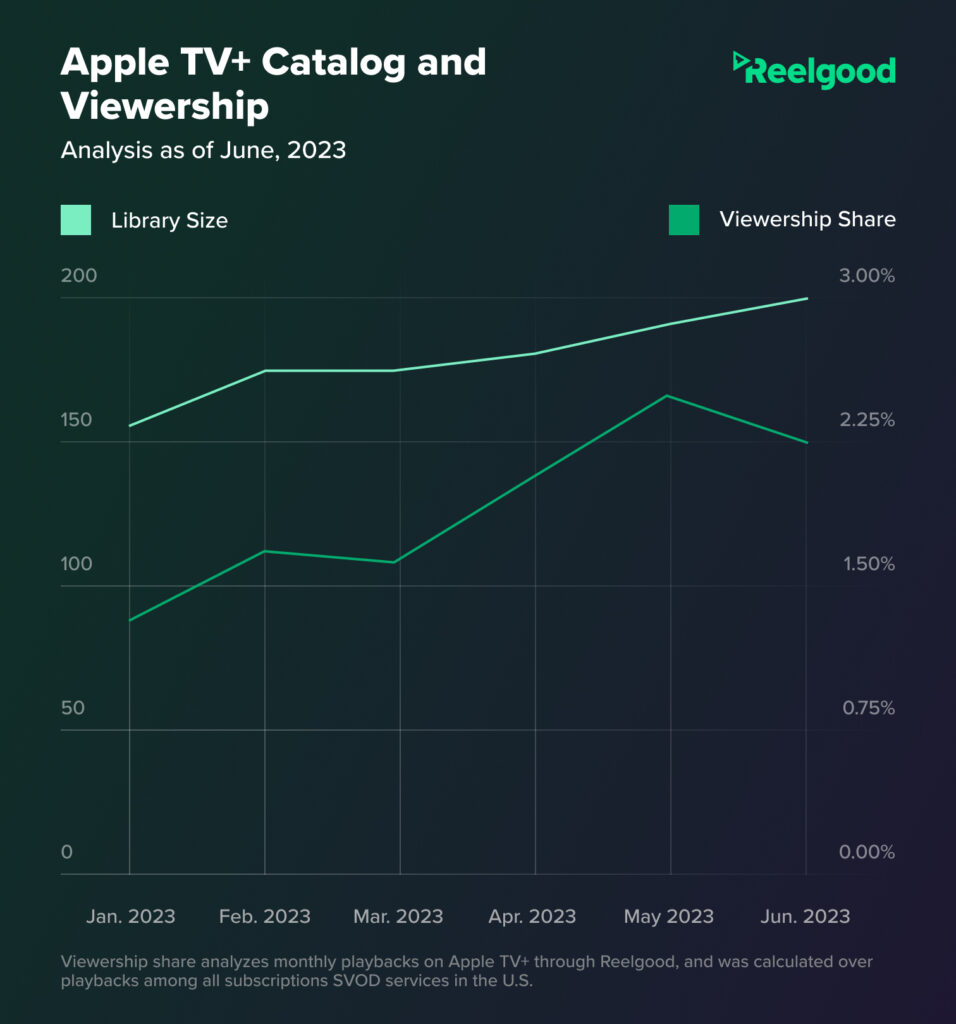 When it comes to viewership share for Apple TV+,  it increased from 1.4% in January to 2.2% in June 2023. The reason?  The platform's success in 2023 can be attributed to the exceptional performance of several new releases. 
The therapy-themed comedy series Shrinking written by Ted Lasso's Brett Goldstein starring Harrison Ford and Jason Segel was on Reelgood's Top 10 list for four consecutive weeks, while sci-fi drama Silo held strong for eight consecutive weeks and always among the top 5 most popular titles. Speaking of Ted Lasso, bolstered by its final season, the soccer comedy stayed on the list for four consecutive weeks. 
And it's not just series. Tetris, a film about the creation of the world's most popular video game starring Taron Egerton also contributed to Apple TV+'s 2023 success.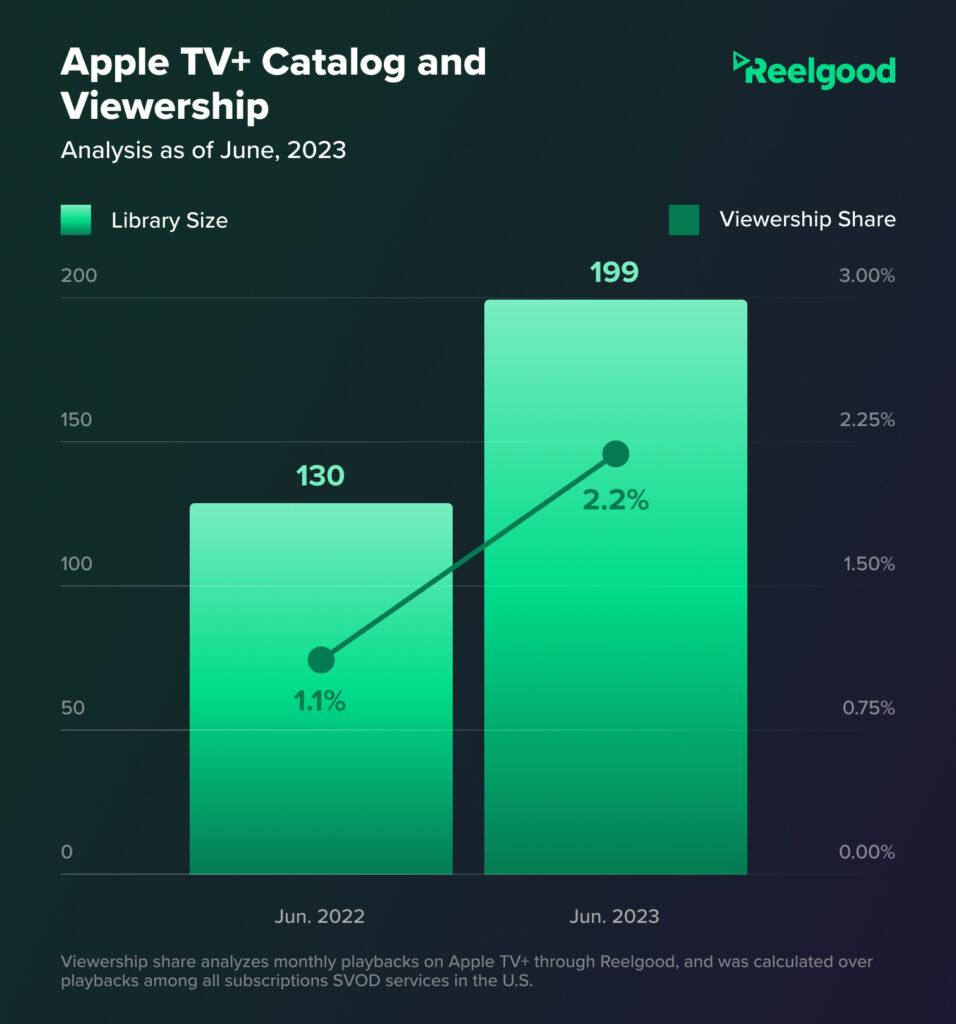 The Apple TV+ catalog remarkably grew, expanding by 51% year over year (June 2022 vs June 2023), from approximately 130 titles to nearly 200 movies and TV shows. In that same time, viewership share doubled, going from 1.1% to 2.2%.
It's clear that with a focus on high-quality content, Apple TV+ could be laying the groundwork for becoming a prestige platform. With viewership on the rise, it's obvious that they are beginning to find their stride as they discover what their viewers want. We'll be keeping a close watch on 2024.