Are Streaming Platforms Struggling to Produce High-Quality Content?
Last week, Netflix released Beef, a road rage revenge series starring Ali Wong and Steven Yeun. Viewers and critics alike are praising the series calling it one of the best shows in years and even going so far as claiming it to be the antidote to ambient tv.
While the writing, producing, and acting are superb, it feels like the right show for the right time for Netflix.
In recent years, Netflix has relied on ambient tv to keep viewers watching for interior decorating, food travel, cooking, and organizing shows. Think The Great British Baking Show, Dream Home Makeover, and Get Organized with the Home Edit. These are shows that viewers can put on and watch while doing other things. Netflix has floundered.
Netflix needed a win.
It's no secret that the Netflix algorithm is guilty of offering subscribers an array of options — one might say that they've over-delivered unpromising content.
For example, in 2022 alone, the platform had flops like Persuasion, Space Force, and Ryan Murphy's Hollywood. Even Emily in Paris was renewed despite criticism and succeeding only as something to hate to watch.
Indeed, the platform did have some success with Squid Game. While a viral sensation, its ability to stay in Reelgood's Weekly Top Ten list for as long as it did felt coincidental to its content. As a hyper-violent show about desperate cash-strapped contestants competing in a deadly game to get out of debt thought of the moment for the fall of 2021 when the world was still actively battling a pandemic, economic disparity continued to widen, and our social structures felt more volatile than ever. It was cathartic, to be sure, but will it be a series that people tune into for Season 2? We shall see.
However, other major streaming platforms have offered just as zeitgeist-grabbing content, but their content feels more prestige and seems to have longer staying power. Think HBO's The White Lotus, a series about wealthy people misbehaving, culminating in an old-fashioned whodunnit murder mystery that had viewers gripped week to week, wondering whose body is floating in the water.
Not all content is created equal.
Over the past decade, streaming platforms set to solve the issue of "what to watch." However, the quantity of programming across ever-growing streaming platforms brought another problem – "Where to watch?" And now, it feels like the golden age of original streaming content is passing, and viewers crave quality content.
According to our data, subscribers of the major streaming platforms currently have access to 36,674 TV shows and movies across the nine most extensive streaming services. However, based on their IMDb viewer scores, only 46% of that content is considered quality or high-quality offerings.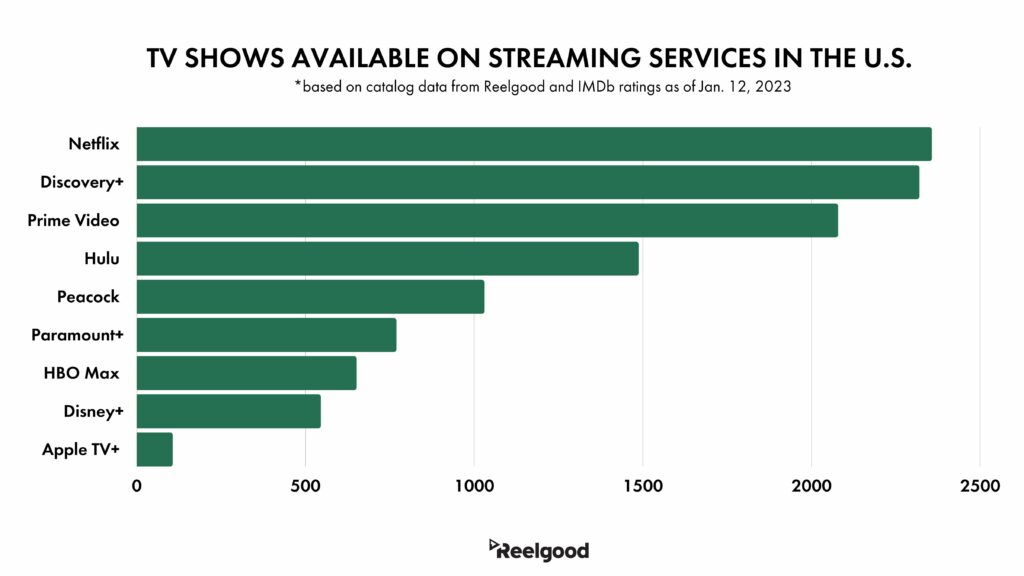 More quality, less quantity?
Because less than half of the content offered by the major streaming platforms is deemed sub-par, it has the services wondering if cranking out content isn't as lucrative as it once was and learning that offering a stream of low-quality content at rock-bottom prices isn't working. In essence, audiences are craving something more profound.
If streaming made pulling the plug easier, then low-quality content is making it easier than ever for subscribers to press the cancel button on their subscriptions.
Will the next iteration of streaming bring less content and more quality? We'll see. One thing is certain; audiences are craving Beef, and time will tell if platforms are willing to pay more for better-quality content.