Which Services Are Maintaining Their Value Proposition … and Which Ones Are Not
It's no secret that the price of subscription streaming keeps going up. But which streaming services are keeping up with these price hikes by upping their catalog game?
Reelgood audited the libraries of eight leading U.S. services, tallying their depth of movie and TV titles over the last two years.
Economic trends factor in heavily here. For instance, Warner Bros. Discovery and Paramount, which spent aggressively to grow their subscriber bases early on for Max and Paramount+, respectively, have pulled back — just as aggressively — on content, removing TV shows and movies to save on residual payments to talent and on taxes.
Meanwhile, Netflix is now profitable and flattened the once-robust content spending growth that helped it become the most dominant name in video streaming.
Here's a look at how the catalog of each leading U.S. subscription streaming service has evolved, according to Reelgood data.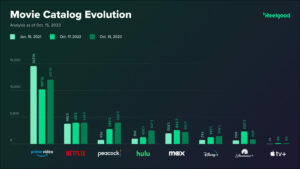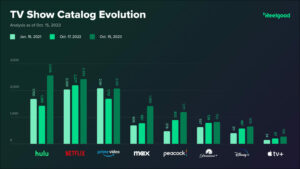 AMAZON PRIME VIDEO
Amazon has far and away the biggest film library in subscription streaming, with more than 12,071 movies and 2,135 TV series available, according to Reelgood's most recent tally.
Amazon, however, was the first major streamer to realize that a super-long "long tail" of independently produced movie titles isn't necessarily a profitable proposition, with residuals and taxes on some indie films costing more than the movies were generating in streaming.
Amazon has pulled back a bit from the rather austere purge of indie titles it embarked on several years ago, but it still has about 2,600 fewer movie titles than it did at the start of 2021.
But if it's an obscure movie from yesteryear, Amazon Prime Video remains the first place to look for it.
NETFLIX
Netflix has modulated its once explosive spending growth on movies and TV shows, which helped it grow its global subscriber base to nearly 250 million users. And the Hollywood studios, at least for a while, stopped selling Netflix shows once they learned the streamer had become worth more than them on Wall Street.
But Netflix offers more TV series than anyone else in the U.S. streaming biz, save for Hulu, according to Reelgood's tally, with 2,495 shows available in the sprawling Netflix TV catalog.
And at nearly 4,000 film titles, Netflix's movie catalog is second in girth only to Amazon.
PEACOCK
Tied to the Universal Pictures library, NBCUniversal's Peacock has a surprisingly robust film catalog, with 3,950 tiles, by Reelgood's latest count. Peacock's TV catalog is robust, too, with 1,171 shows.
Indeed, Peacock's film and TV catalog has roughly tripled in size since the beginning of 2021. And that may go a long way towards explaining why the streamer's paid subscriber count has tripled over that span, too, to nearly 30 million users.
HULU
Currently, in the process of divesting itself from what was a joint venture and selling its 33% stake in Hulu to soon-to-be sole owner Disney, Comcast/NBCU started pulling its shows off Hulu several years ago, reducing the size of the industry-leading Hulu TV catalog (now at 2,656 titles) in the process.
But Disney, which purchased Fox's entertainment assets several years ago, is now building Hulu's catalogs back up as it prepares to combine the platform with Disney+ as one unified app experience, at least for those who subscribe to both via the Disney Bundle.
Hulu will supply the more adult-oriented fare vs. the family-oriented bent of Disney+.
MAX
A lot has happened, catalog-wise, amid the $43 billion merger that created Max's parent company Warner Bros. Discovery two years ago, along with the subsequent transformation of the company's flagship subscription streaming service from "HBO Max" to "Max."
Warner's new management team, led by CEO David Zaslav, famously purged both TV and film catalogs, taking financial "write-downs" on content they felt would cost more to maintain on the platform than it would generate in actual streaming.
This may surprise some streaming watchers, who've watched Zaslav and his team remove legacy HBO shows like the Emmy-winning Westworld from Max, distributing them instead to third parties like the Roku Channel. But Max's TV catalog is twice as big as it was 12 months ago, thanks to the introduction of 90 Day Fiancé and the rest of the vast Discovery TV catalog.
However, the Max film catalog is more than 15% smaller than it was a year ago, with Zaslav and his team scuttling finished movies like Batgirl and Coyote vs. Acme even before they had a chance to drop on Max.
All of this coming and going hasn't helped Max grow its subscriber ranks. The platform has lost around 2.5 million users since the end of March.
DISNEY+
Just like Warner Bros. Discovery's investors, Disney backers got tired of the studio losing $1 billion or more each quarter on streaming, and they pressured "The Mouse" to curtail its explosive content spending growth.
Disney's film catalog has only expanded by about 12% to 1,400 titles over the last year, with the streamer notably taking down $53 million teen sci-fi movie Crater just weeks after its summer debut to save money, again, on residuals and taxes. In fact, Disney took its own $400 million write-down over the summer to remove titles it didn't think would move the Disney+ subscriber needle.
With Disney+ Premium more than doubling in price over the last year to $13.99 a month, that's something to consider.
PARAMOUNT+
Warner Bros. Discovery is the studio most closely associated with cutting content to save on spiraling streaming costs. However, Paramount+ has seen the U.S. subscription streaming industry's biggest catalog haircut, at least on the film side.
By Reelgood's count, at 803 titles, Paramount+ has fewer than half as many movies available for on-demand streaming than it did a year ago. And at 752 shows, the Paramount+ TV catalog largely remains flat from where it was this time last year.
But for Paramount, who needs a giant content catalog when you have producer Taylor Sheridan churning out mega-popular Yellowstone sequels and other hit series? Despite the catalog cuts, Paramount+ just added 2.7 million customers over the summer and now has 63 million paying subscribers.
APPLE TV+
Since it launched in November 2019, the Apple TV+ catalog has consisted almost entirely of shows Apple produces for itself. Thus, Apple's libraries remain tiny, with just 69 movies and 139 shows in the vault.
This mattered less, say, just before November 2022, when Apple TV+ was still priced at $4.99 a month … with the final season of its flagship show, Ted Lasso, was still ahead of it.
With Ted Lasso back in the U.S. and retired from coaching European professional soccer, and the price of Apple TV+ now at 10 bucks a month, we may see the catalog become a factor for Apple amid a tightening competition for U.S. consumer streaming dollars.