Disney+ Originals are a Streaming Success
It's hard to believe that Disney+ is less than five years old. Debuting in 2019, the streamer's marketing relied heavily on touting Disney's animated films – with the Mouse-backed streamer, no film was ever going back into their famed vault.
Fast-forward to 2022, Disney+ is giving streamers like Netflix a run for their money when it comes to original streaming content.
Since launching WandaVision in January of 2021, Disney+ has offered viewers a non-stop, one-stop-shop of binge-worthy original programming including record-smashing hit The Mandalorian and Loki. Looking at the data for the Top 100 shows on SVOD and AVOD for 2022, during the first two weeks of release, Disney-backed shows dominate the market.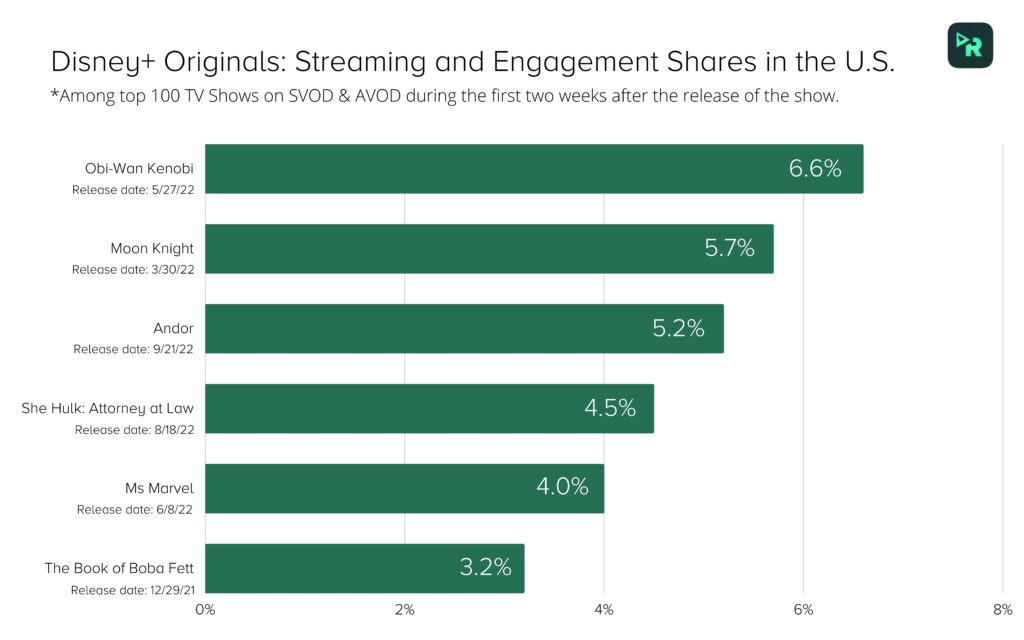 It should also be noted that most of these titles are pretty family-friendly. While not appropriate for the elementary school set, a vast majority of the MCU and Star Wars spin-off titles are great for families looking to spend time together streaming which is no easy feat when it comes to programming options.
With 2023 just a month away, we'll be curious to see if the House of Mouse will continue to dominate and demand viewership with Loki Season 2, Ironheart, and Agatha: House of Darkness all on deck to be released among others.