Reelgood for Business Newsletter #2 (March 2022)
Welcome to the first Reelgood for Business newsletter of the year. Here's what's happening in the streaming world. (Scroll for the full stories.)
Why the folks at Apple TV+ are having a great Q1 
How viewing for Batman franchise changed ahead of the theatrical release of The Batman (spoiler: biggest winners here are HBOMax, Hulu, and Tubi)
A big welcome to Tim Cutting, our new General Manager of Reelgood for Business  
How streaming services are changing their catalogs in response to evolving consumer demand
"Watching television shouldn't be this hard."—recent NYTimes piece discusses the current state of fragmentation and highlights the Reelgood all-in-one guide as the solution
Happy reading,
David Sanderson
CEO & Founder
---
1.
The folks at Apple TV+ are having a great Q1.
Apple TV+ is now the first streaming service to win Best Picture. The Apple TV+ original movie CODA took home three big wins in total. Troy Kotsur also made history as the first deaf man to win an Academy Award, accepting the award for Best Supporting Actor and Director and Filmmaker Siân Heder won for Best Adapted Screenplay.
Other big wins for Apple TV+ include The Afterparty which cracked the Reelgood Top 10 just two days after its release and their hit show Severance has been the most popular show on any streaming service for three weeks in a row.
Apple has also announced they're getting into sports with the acquisition of MLB streaming rights.
---
2. How viewing for all movies in the Batman franchise changed ahead of the theatrical release of The Batman.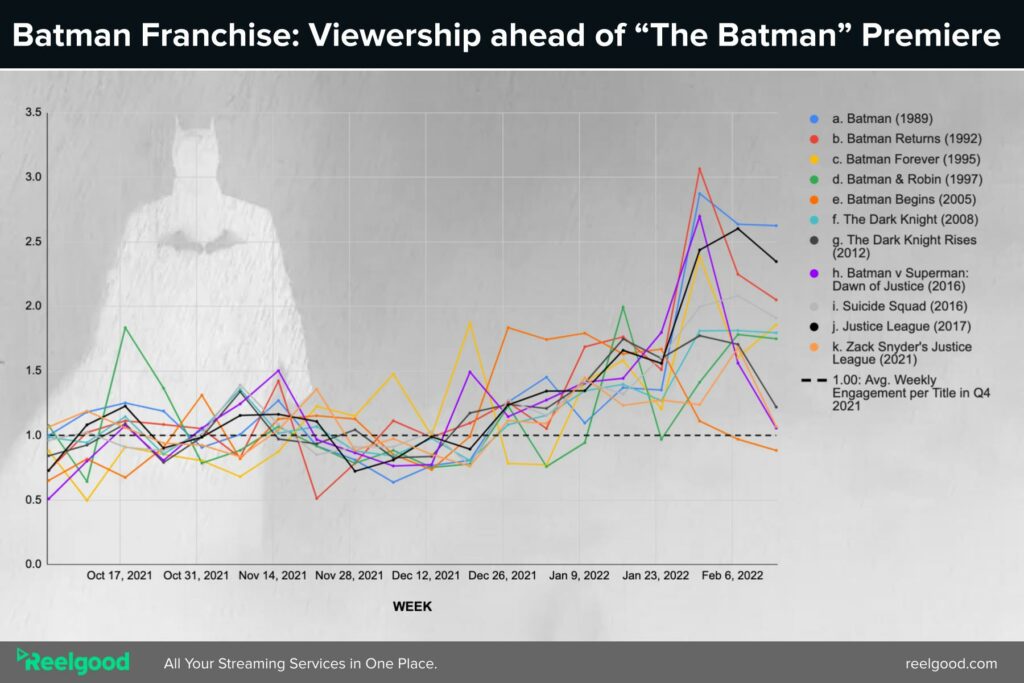 The biggest winners here were HBOMax, Netflix, Hulu, and Tubi. Hulu had the largest share of viewership of the older Batman movies, with Batman Begins (2005) amongst the most popular titles. "The Batman" will be available to stream just 45 days after its theatrical release, on April 19 on HBOMax (click here to get notified when you can stream it.)

Our data showed that, compared to Q4 2021, engagement for Batman movies increased 63% in 2022 ahead of the theatrical release of "The Batman." The spike on the week of Jan. 31 coincides with Matt Reeves and Warner Bros. announcing the sale date of "The Batman" tickets.*Data is based on weekly streaming and engagement activity on Reelgood platforms for Batman movies. Data is indexed against the average of each title's weekly streaming and engagement activity in Q4 2021. Weekly engagement is an aggregate of behavioral data on the Reelgood site and apps, including playback, tracking, and other interactions.
---
3.
Welcome, Tim Cutting (formerly Gracenote) as our new General Manager of Reelgood for Business. 
Tim Cutting, formerly Gracenote's Head of North American Sales, has joined to lead our commercial business.
We are already seeing our clients benefit from Tim's longstanding expertise in helping companies solve the streaming fragmentation problem for their users.
Reach out and say hi: tim@reelgood.com and read the announcement here.
---
4. How streaming services are changing their catalogs in response to evolving consumer demand.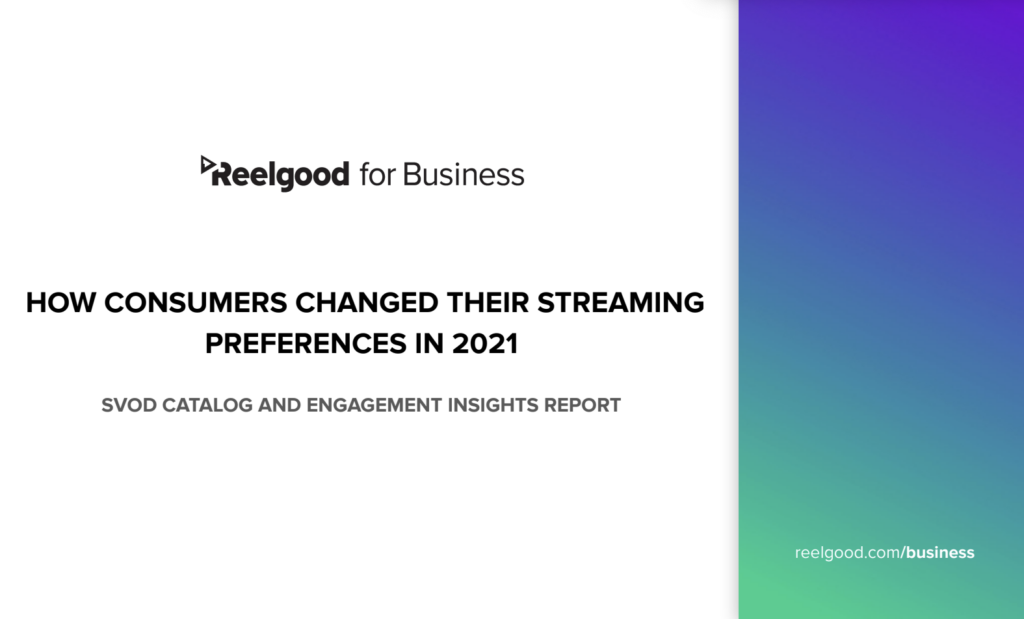 If you'd like to better understand how consumers changed their streaming preferences during the second year of the pandemic, check out our team's most recent whitepaper:
Click here to see the full report.
---
5. "Watching television shouldn't be this hard."—NYTimes 
This recent NYT piece bemoans the impact of streaming fragmentation—highlighting the fact that intricate licensing deals make it increasingly difficult to figure out where to watch your favorite show.
The writer concludes the piece by highlighting Reelgood as the solution to this problem. The all-in-one streaming experience we provide at Reelgood isn't a nice-to-have—it's become core functionality. This is why we continue to invest in providing the best data in the streaming world.
---
Questions or feedback on this newsletter?
Hit reply. I'd love to hear from you.
—David