Streaming's Epic Battle: House of the Dragon vs The Rings of Power
With near-simultaneous kick-offs, House of the Dragon and The Lord of the Rings: The Rings of Power have officially become the most successful tv shows on HBO Max and Amazon Prime Video. With hundreds of millions of dollars on the line, both debuted to record viewership that has only grown in the short time they have been on the air, but which will win the battle of blockbuster fantasy television in the long haul?
House of the Dragon is HBO Max's hotly anticipated prequel to their massively successful Game of Thrones. What makes the initial success of House of the Dragon interesting is that for most fans, Game of Thrones ended on an extremely sour note. The general consensus is that the last two seasons of the epic fantasy series were rushed and simply didn't measure up to the excellence of the first six. And the final episode…well, the less said about that, the better. However, it seems like all is forgiven, or maybe everyone just missed being in Westeros because House of the Dragon is setting viewership records even Game of Thrones never reached.
Similarly, the last time we were in Middle Earth, it was in Peter Jackson's much-maligned Hobbit –trilogy from the same team that brought us the incredible Lord of the Rings. But fans of Tolkein also seem to be forgiving, or at least as eager to jump back into Middle Earth again, and Rings of Power seems to be worth every penny Amazon spent on it.
The chart below tracks the first two weeks of viewership after each show's debut. As you can see, in that time, House of the Dragon captured an impressive 5.8% of streaming viewers, no small feat; but in the two weeks after its own debut, The Rings of Power grabbed an even more impressive 7.7% of viewership, with both shows pushing well north of 20 million viewers per episode. These are incredible numbers and show just how ready fans were to get back into their favorite worlds, despite their last experience there.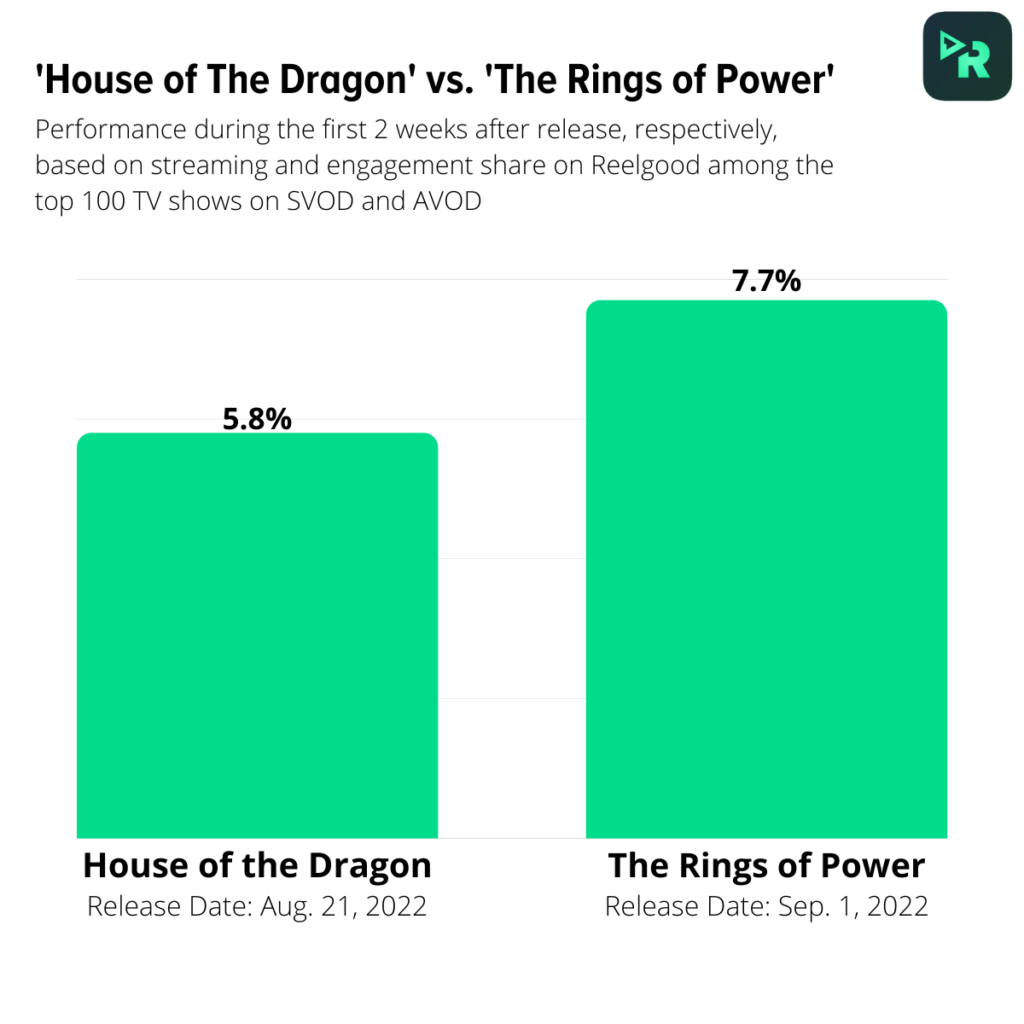 The first two weeks after a show's debut might not tell much about its quality or staying power, but it shows how much interest was in these two properties right from the word "go." (Sidenote: It took Game of Thrones seven seasons of being a pop culture phenomenon to average over 10 million US viewers per episode.) But which of these highly-pedigreed shows will last the long haul?
Early reviews are just that, and shows can change tack if need be, but so far, House of the Dragon is being hailed as a return to form that was lost in the last two seasons of Game of Thrones. Sex, violence, politics – everything you want from George R.R. Martin brought to life once again, but this time with more dragons!
On the other hand, The Rings of Power has been roundly savaged by critics. Almost acting as a counterpoint to Westeros, this version of Middle Earth is slow, sexless, and absolutely beautiful to look at. You can see where Amazon spent its money, and it doesn't seem to be the story.
Where do they go from here? Only time will tell. Perhaps House of the Dragon will fall to the Game of Thrones curse and forget just what makes it fun, or maybe The Rings of Power has a $100 million trick up its sleeve. It's too early to judge, but for now, both continue to capture massive viewership, and we'll be watching as well.