A Look at Viewership Share in 2023 So Far
Let's face it — content consumers have many options regarding "what to watch," and unless you've been completely unplugged for the last year, you've heard of series like The Bear, The Last of Us, and Succession. You may have also heard rumblings about Poker Face, Silo, and Beef.
The first shows mentioned are undoubtedly the best of the best of the year (so far). All three are wildly popular, and each had a long healthy run in Reelgood's Top Ten List.
As for the second group mentioned, while all on the surface, it might seem like these shows don't have much in common –some viewers (even heavy consumers) – may not have even heard of these programs. However, they, too, have all dominated Reelgood's Top Ten List, and further, they have all bolstered viewership for their respective streaming services.
Let's dig into our current data and look at where streaming services are standing with just less than half a year left and what shows might be causing bumps in viewership share.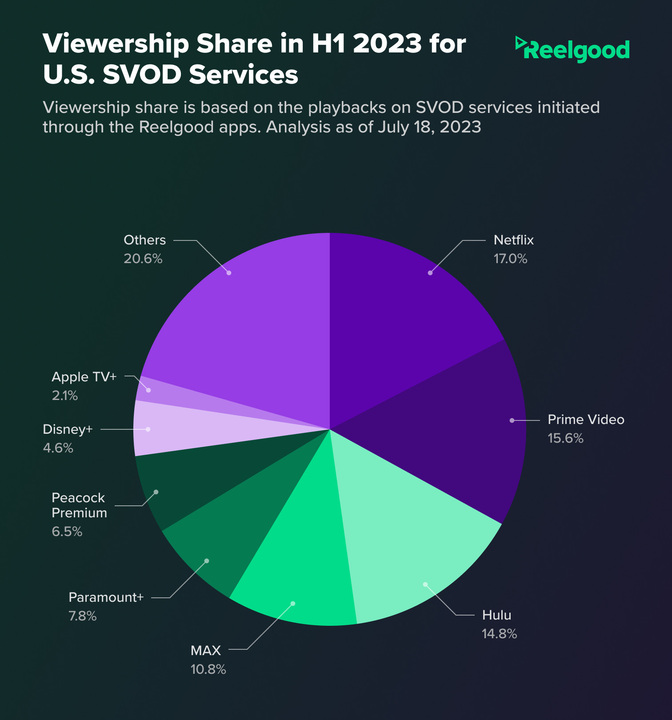 It's all about quality, not quantity, for smaller streaming services
While smaller streaming services like Disney+ and Apple TV+ have much smaller catalogs, each platform has focused on quality niche content to increase their viewership share.
We recently discussed how Apple TV+ has strategically chosen to work with Hollywood's top talent to create captivating, niche, and super high-quality series instead of pumping out content. It's a gamble that has paid off. While their viewership share is still the lowest at 2.1%, that number is double what it was last year. Apple TV+ expanded by 51% year over year (June 2022 vs. June 2023) from approximately 130 titles to nearly 200 movies and TV shows.
Disney+ continues to experience a small but steady viewership share, likely caused by both the Marvel and Star Wars franchises. Both franchises are fan favorites and will likely be enough to hold those viewers for a long time based both on new franchise content and access to previous movies and series that, for fans, are infinitely rewatchable.
Peacock is bringing up its numbers
Could it be attributed to Rian Johnson's Natasha Lyonne-helmed Poker Face? We think so. The series from the wildly popular director of Knives Out, Glass Onion: A Knives Out Mystery, and Star Wars: Episode VIII-The Last Jedi stayed in Reelgood's Top Ten for weeks and gave viewers a reason to subscribe to Peacock. With top talent in the driver's seat, seeing what else the network has up its sleeve will be interesting.
Max continues to hold the middle
Even with its name change and combined catalog, the newly minted Max holds a steady 10.8% viewership despite its incredibly strong content offering from the beginning of 2023. Shows like The Last of Us, Succession, and Barry – the latter two of which enjoyed their final seasons – kept viewers glued to the platform week after week. It will be interesting to see what happens in the year's second half of the year as new content is released, although returning series like True Detective and Euphoria may not return until 2024 and 2025.
Netflix, Prime Video, and Hulu continue to dominate
Holding down nearly half of the viewership share for the first half of 2023, Netflix (17.0%), Prime Video(15.6%), and Hulu (14.8%) continue to dominate, and it's no surprise. This year each has had runaway hits in Beef and The Bear. While Prime Video hasn't had one runaway hit, it has lured audiences with critically acclaimed hits like Tom Clancy's Jack Ryan, Citadel, and Daisy Jones & The Six.
With the year only just halfway over and as the SAG and Writer's strike continues to interrupt production, we'll be keeping an eye out on how and if viewership shifts in the months to come.