Reelgood For Business Newsletter #7 (Nov 2022)
It's time for another edition of Reelgood for Business. We've got a lot going on this month, so let's catch up on the latest news in streaming. Here's our agenda:
Data accuracy and availability matter – and what we learned from Top Gun 
Catalog size – breaking down catalog size per streamer 
Streaming's epic battle – House of the Dragon vs. The Rings of Power
Reelgood's Top Ten – which titles are topping the charts this week
TV of Tomorrow recap  – plus where to watch the panels  
Happy reading,
David Sanderson
CEO & Founder
---
Beyond the Headlines
1. Why data accuracy and availability matter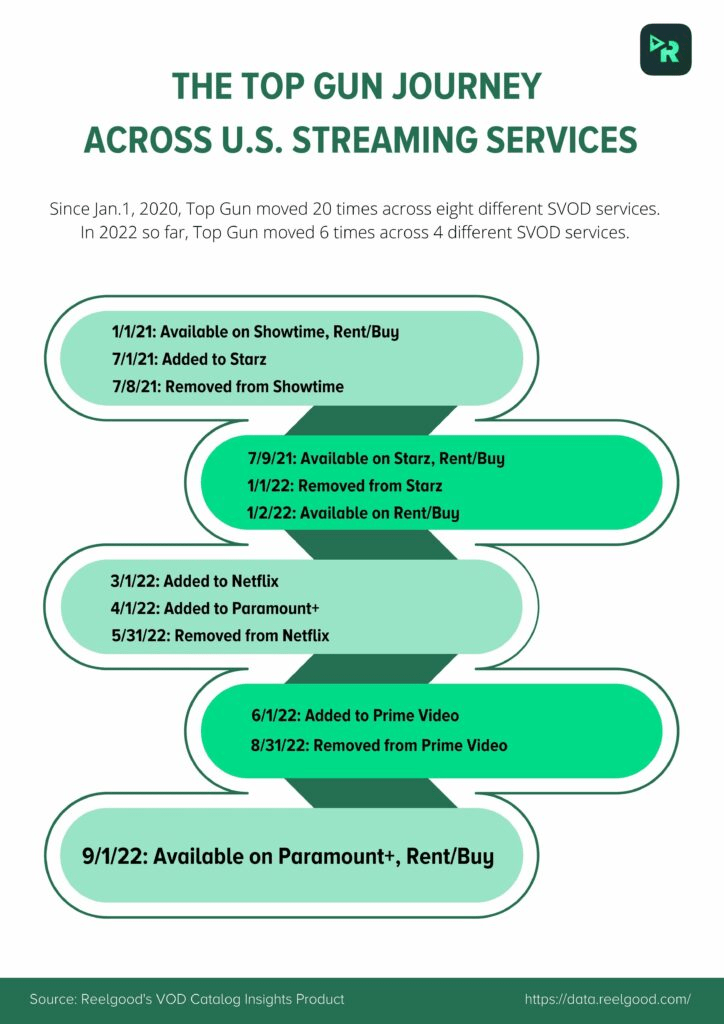 Streaming has profoundly changed our content-watching habits. It's especially changed how networks, production companies, and even streaming services themselves measure the success of their programming.
With new streaming content being released every day and distribution rights changing hands in a blink of an eye, maintaining streaming availability data, keeping it accurate, and ensuring that all associated metadata and imagery are up-to-date is a nearly impossible task.
 What's the solution? Reelgood's full-service data feeds, or as we call it – our Firehose. Click here to read more.
---
2. Catalog size per streamer for the first three quarters of the year
Consumers aren't at a loss for options when it comes to streaming. These days, platforms are constantly working on increasing their catalog size and improving their content offering. The latest data from Reelgood's VOD Catalog Insights Product dives into the top SVODs in the U.S by catalog size for Q1, Q2, and Q3 2022.
Find out how they stack up below: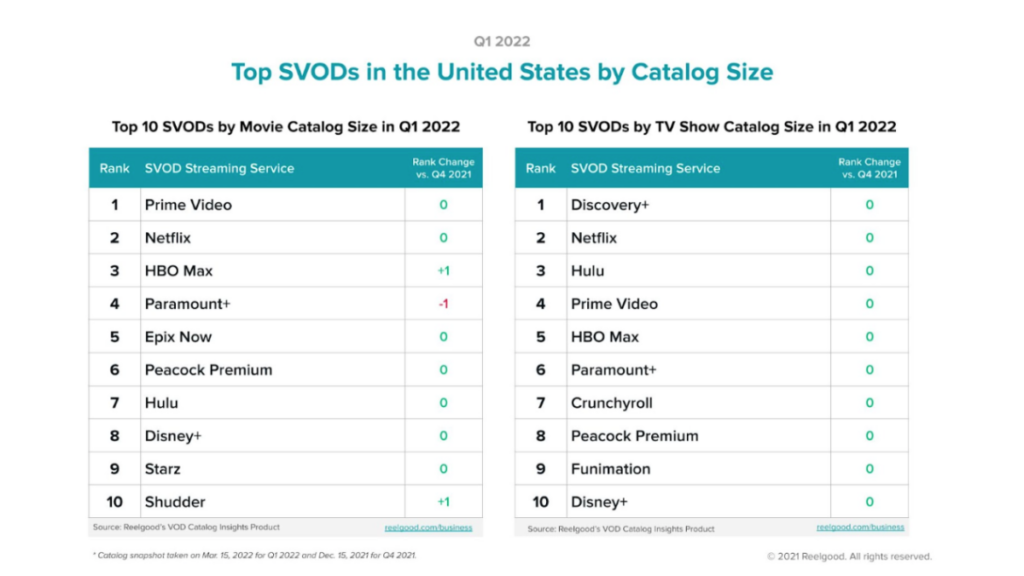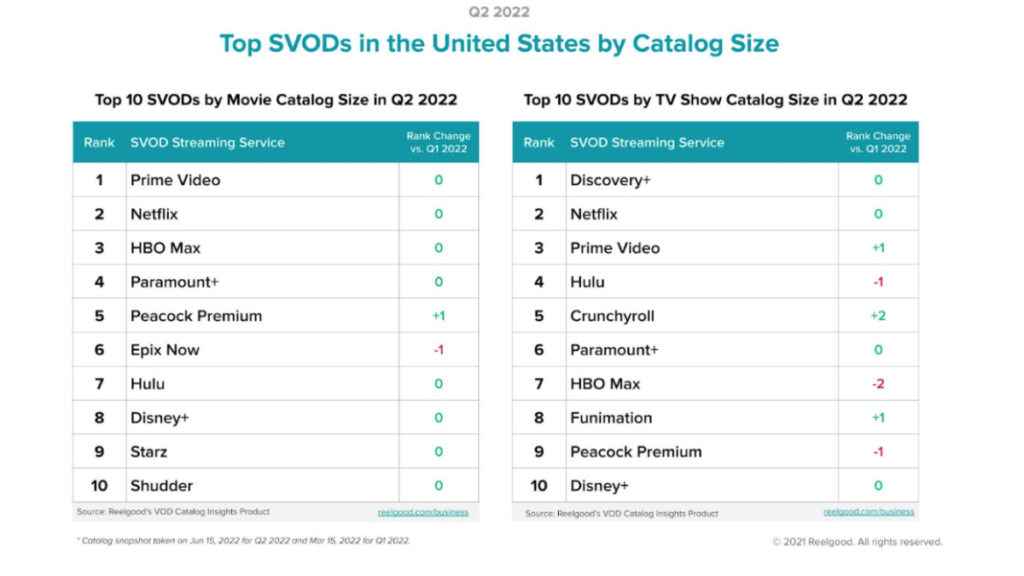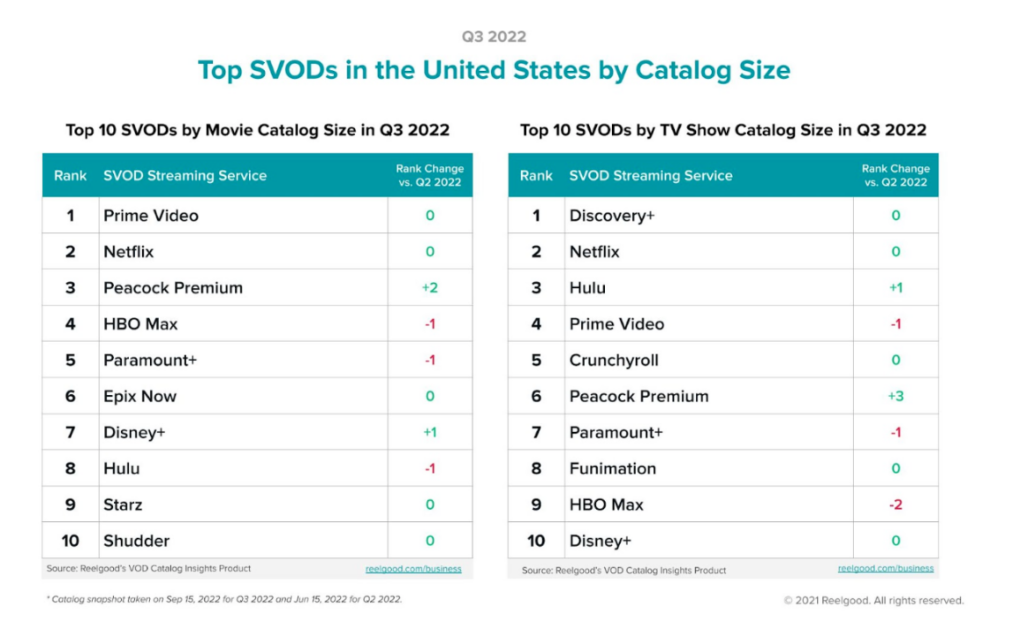 ---
3. Streaming's Epic Battle: House of the Dragon vs. The Rings of Power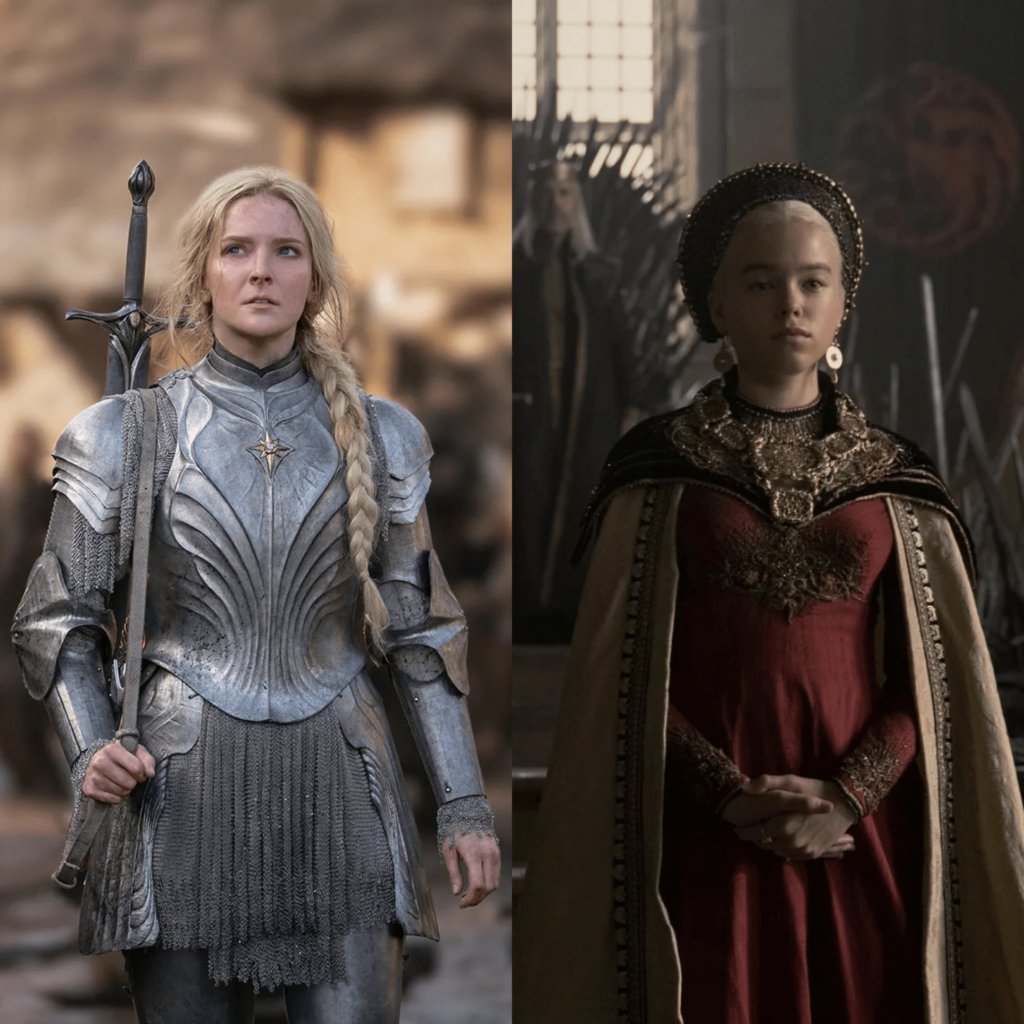 HBO Max's House of the Dragon and Amazon Prime Video's The Rings of Power have officially become the most successful tv shows for their respective streaming platforms, with skyrocketing and record viewership numbers on the day of their premieres. They're both also the biggest, most expensive productions in TV history. So, which of the two has won the viewership battle since its release?

Click here to find out.
---
4. What to Watch: Reelgood's Top 10 Streaming Movies and Shows
Wondering what everyone's watching this week? We've got it covered. Click here to see which shows and movies topped the Reelgood streaming charts this week.
---
5. The TV of Tomorrow recap
Our head of Marketing, Catharine Burhenne, recently spoke at the TV of Tomorrow conference in San Francisco. Discussing the topic of Guidance, Navigation, and the Paradox of Choice, Burhenne and a panel talked about how the overabundance of choice in television streaming can lead consumers to feel overwhelmed, indecisive and frustrated when choosing something to watch now that content is spread across multiple different platforms and services.
The group also discussed how to solve this issue, citing developments in recommendation and personalization technologies, search algorithms, metadata, and user interfaces to simplify the process of choosing.
Watch the TVOT panels here. 
---
Questions about how Reelgood's products can help media and entertainment companies shape content strategy, accelerate growth, or inform partnership decisions? Contact us.